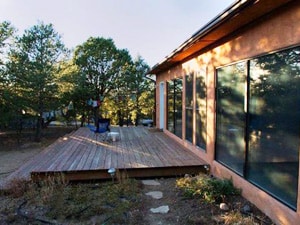 The Dharma House, Earth Journey's newest structure finished in 2003 with contributions and labor from Tibetan Buddhist practitioners, serves as both a beautiful retreat space for visiting lamas and rinpoches and as the year-round practice space for the Kagyu Mila Guru Sangha.
Regularly scheduled practices are Green Tara, and Chenrezig.
In addition, The Dharma House offers those wishing a short-term, private, spiritual retreat an inspiring place to meditate and practice. Arrange your retreat with The Dharma House here.
Information for all Earth Journey meditation and Tibetan Buddhist practices can be obtained in Programs, also by checking the bulletin board in front of the stupa.