Herman Rednick not only painted from his spiritual experiences, he also wrote about them — in narrative accounts, poems, and impressions of mystical encounters. He also wrote in order to teach and to help — works including instruction or lessons on the path (more than 1500); a treasury of practical advice for the sincere seeker; a study guide to the New Testament; vignettes of intense spiritual transformation in those coming to him for help. Some of these writings Herman made into books while he was alive; others were compiled from his handwritten manuscripts by students after his death.
Click on a book image to learn more and to purchase through PayPal.
If you encounter any difficulty ordering, contact Gabrielle Herbertson directly, at gabrielle (dot) herbertson (at) gmail.com.
To purchase by cash, check, or to pick up your book in person, write us through the Contact page.
NOTE: Shipping/handling costs are in addition to the price that is shown. All revenue from the sale of books supports the work of Earth Journey or the Herman Rednick Trust. 
EARTH JOURNEY VOLUME III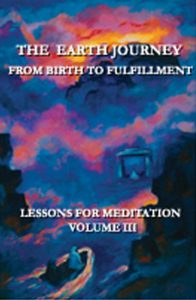 This volume is in preparation and will contain the remainder of the content of his teachings. Check here for updates or leave us a message on the contact page if you would like to be notified when it becomes available.